WordPress web Development
The finest Agile WordPress Development for your business. We take care of the details so you don't have to. Choosing Levitation as your agency means you can be sure that your website will meet every modern standard for web design and development
WordPress is an open-source website builder that makes it easy to update, change and add pages on your site. You can also choose a wide variety of themes and designs to suit your needs.
WordPress is completely free – you can download, use and modify it as much as you want. It is also open source, meaning that the source code is available for anyone to see and improve upon. The WordPress community consists of millions of users and developers who are constantly building new features into the software. It has one of the largest communities of developers in the world.
Wikipedia: http://en.wikipedia.org/wiki/WordPress
Manage your data with ease
WordPress is most people's favorite content management system (CMS) for many reasons. WordPress has 40% market share of all websites, it widely used for e-commerce, blogging , Education website creation, and online stores.
WordPress is easy to use and it's search engine tool work out of the box. The user interface consists of a post editor where users can upload images, attach media files (video or audio), insert hyperlinks, include shortcodes (e.g., YouTube video), and format pieces of text with bold, italics, lists and more. They also have the ability to make adjustments such as adding categories or tags to posts without leaving the editor.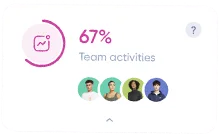 Tailored to your business needs​
WordPress was created to make web publishing simple for everyone. And as time goes on, there are many things that will change about how it works. It will continue to evolve with the internet and the digital world around us.
Right now, WordPress is changing and adapting to the needs of its users which is something that will always be key to its success. That said, there is one thing that will never change about WordPress. It will always be free as a platform. This is what makes it so unique and what makes it so strong. It's a free platform for you to do with as you please!
Reasons to use WordPress web design
What Levitation offers in WordPress Web Design Services ​